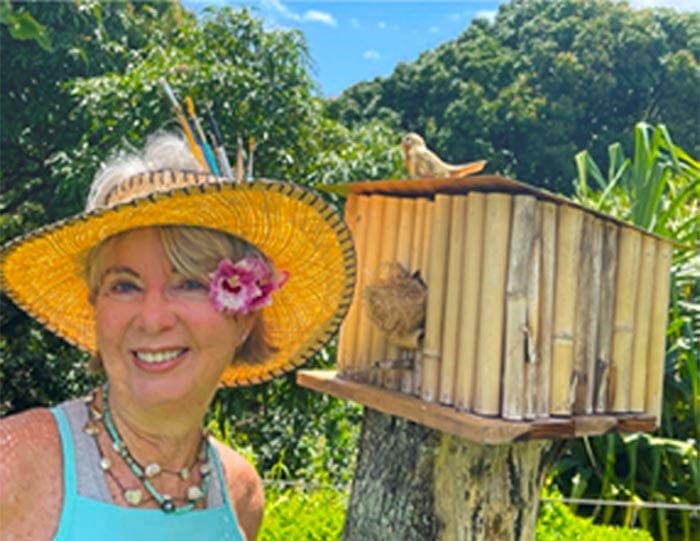 "When I moved to Maui, I discovered my favorite Maui artist. We became friends and exchanged paintings. Her art hangs in my home and every time I look at it I burst into a smile. Proverbs 15:13 says, 'A happy heart makes the face cheerful.' That is what my friend's art does to me, and that joy is exactly what I want to pass on in my art.
"I get kind of crazy when I paint… Like a mad scientist! I have experimented with many types of paint, dyes, and inks and about a hundred substrates from the consistency of tissue paper to rocks. My brushes range in width from 1/32″ to 5" and most are made from hairs of a variety of animals including sheep, goats, weasels, badgers, and horses. I also use all sizes and shapes of sponges, wallboard tools, palette knives, bamboo sticks, and twigs.
"My best paintings occur when I let go of myself and stop meddling. Watercolor is my favorite medium because it wants to flow and find its own happy place many times without my unwanted 'help.' I hope my paintings make you smile! And whether you view my art for the fun of it or purchase it, you put a big smile on my face. So thank you!"
See something in our galleries not shown here? Please email us at [email protected].