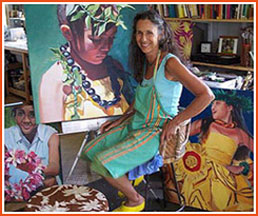 Suzy Papanikolas ~ Fine Art Prints
With both parents as well-known artists, Suzy Papanikolas got an early, robust art education and studied well into adulthood. She established herself as a muralist and as a portrait artist early on, and is now a fine art painter with many art show honors and international collectors.
Suzy has a great love for Polynesian culture and spends much of her time going to gatherings and festivals to record the beauty she sees in the people of this modern renaissance.