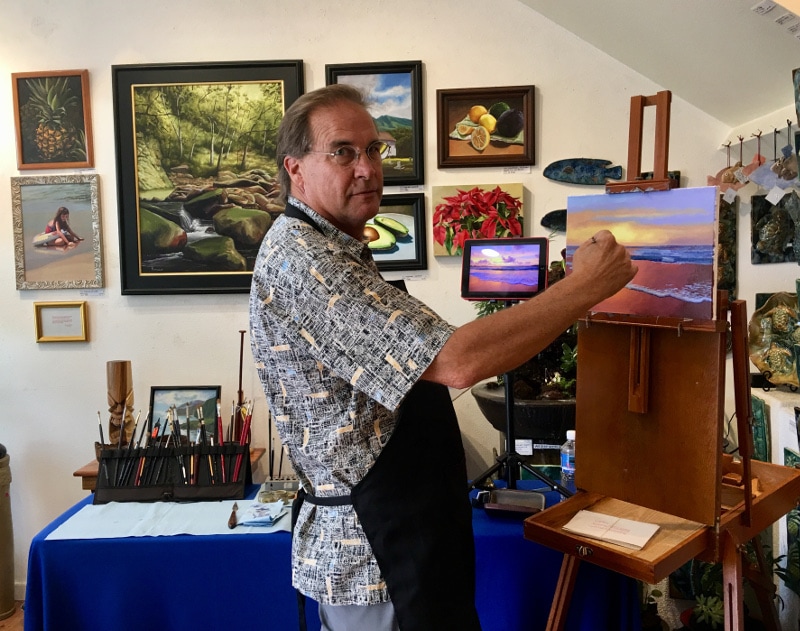 Interested in a custom piece? Please email info@mauihands.com with your ideas and we will work with you to make your vision a reality.
Steve Rinaldi, Maui resident since 2000 and designer/drafter, returned to oil painting after a 20 year hiatus to raise a family. His painterly style is representational and locally inspired, with his portraits revealing the essence of an individual and his landscapes inspiring a sense of light and awe. Steve's current ambition is to become proficient at "Alla Prima" painting: creating a finished artwork in a single, one-day session. His prolific, "Alla Prima" driven style is evident throughout many of his charcoal sketches and oil paintings.
Self-taught, Steve began his artist career in Oregon at the age of 14. Over the years, he has supplemented his knowledge and experience with artist workshops from Vincent Ciglia, Ispra, Italy; David Gray, Whidbey Island, Washington; and, on Maui, Patrick McGowan, Dick Nelson, Carmen Gardner, Daniel Gerhartz, and Mary Whyte.