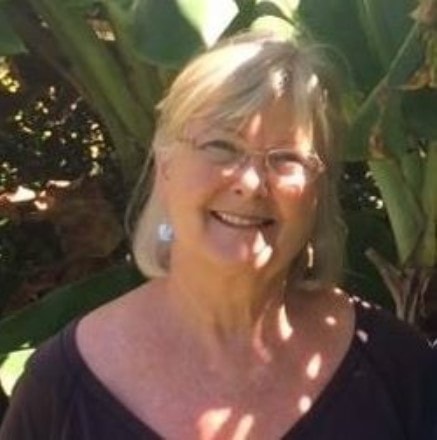 "With a renewed sense of energy, I am exploring painting from my heart! Covid and the subsequent shut-down stopped me in my artistic growth..but thanks to the amazing medical field and the vaccines, I'm back on track and feeling energized, curious, and grateful. I'm letting my playful spirit lead my art using joyful color combinations and new applications of paint using my biggest brushes and palette knives. I hope you can feel the love and the fun that goes into my paintings.
"Hawai'i is my spirit home. I lived on Oahu in the late 1950s as a child and returning to Hawai'i when I retired was a dream come true. My love of nature was inspired by the rainbows, turquoise oceans, brightly colored flowering trees, fragrant flowers, and softly glowing sunsets. I lived in Berkeley, California, for 43 years raising three sons and having a 25-year career in computer graphics and publishing before returning to Hawai'i in 2013.
"In 2004, I began focusing on plein air paintings with soft pastels and in 2014, my first love, oil painting. I am fascinated by the challenge of expressing this precious gift of life through painting: exploring color, value, composition, light, rhythm, and mood."
See something in our galleries not shown here? Please email us at [email protected].