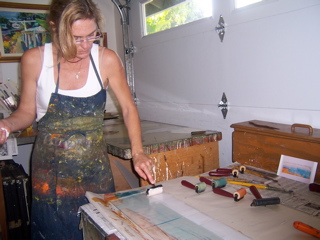 Linda Whittemore studied art in California at the university level and extensively with individual teachers and masters, and is trained in the traditional form of Intaglio printmaking. She is in many private and public collections and has been selected for, and has won awards in, numerous juried shows. Linda's career as an artist skyrocketed when she began to work on her abstract series, and there is honesty about her work that comes through to the viewer. Her background as a painter is apparent in her style, with abstract landscapes coming to mind.
"It's all a process, one medium leads to the next," says Linda. "We create from what we know or don't know. My paintings are who I am."
Created using a printmaking press in her Kihei studio, Linda's artwork style is referred to as viscosity monotype. She first paints on a blank piece of plexiglass using brushes and rollers, then transfers the plate to the press bed, placing a dampened sheet of paper over it. Lastly, the plate is run through the press at high pressure, creating the resultant print on the sheet of paper. To create the next piece in a series, the plate must be completely repainted – making each one absolutely unique.
See something in our galleries not shown here? Please email us at [email protected].