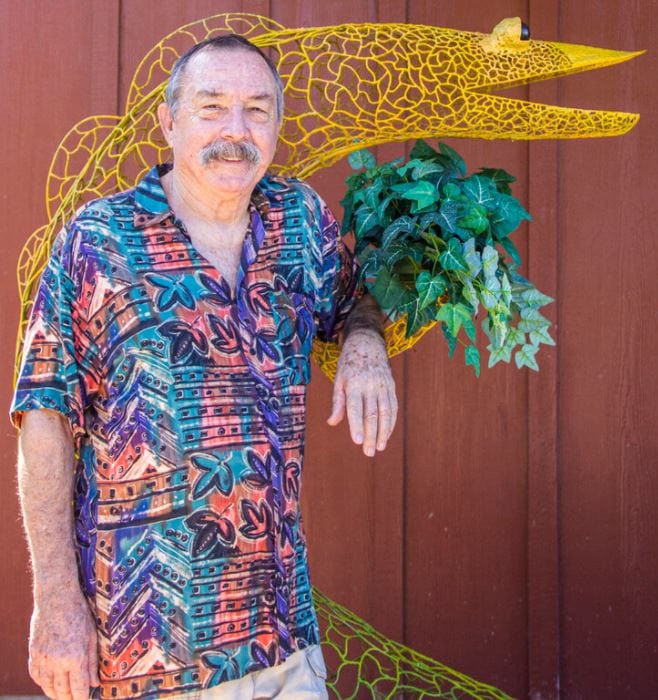 Once upon a time, John Ilnicki wrote a brochure for John Duffy, a metal sculptor, and they became fast friends. Duffy could see how interested John was in all aspects of his metal working, so he took him under his wing, sold him some of his older equipment, and taught him the techniques of working in metal. A new life for John began as he easily picked up the use of the acetylene torch and the electric arc welder.
Over the course of almost five decades, John has been commissioned to create life size animals, mobiles, abstracts, and wall pieces of all sizes. Foundry work and casting have opened up many new avenues for him, and in the past few years he has expanded into other related fields of metal including creating representations of ancient Hawaiian petroglyphs cast in bronze and pewter. His latest series is the whimsical "The Real (and-not-so real) Petroglyphs of Hawai'i."
"I've had the opportunity to sell thousands of works of art to people all over the world in the 48 years I've been a sculptor. A few famous people have bought my work: a piece presented to the President of Greece commemorating the ancient Olympic Games in Nemea; a piece honoring King Kamehameha for the State Capitol Building; a petroglyph purchased by the King of Dubai; three personal works commissioned by Mickey Hart of the Grateful Dead; and baseball sculptures for Reggie Jackson and Fred Lynn. I've also won awards in judged contests, strangely enough, for a 9' Giraffe and a 7' Bear.
But the best was the thousands of people I've met at shows and exhibitions who appreciated my work and the few who became good friends…"