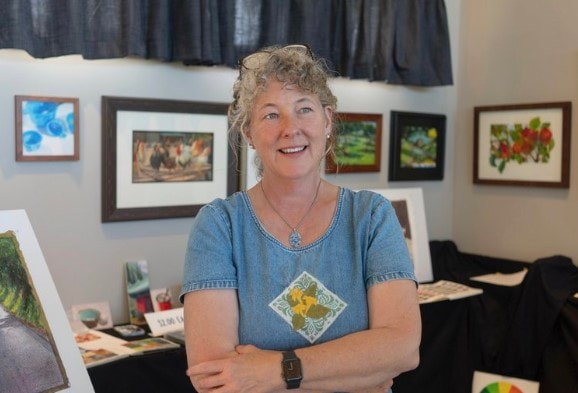 "I'm from Saratoga Springs, New York originally: Mom, painter, widow, hiker, swimmer, painter, and oh yes, painter. I've drawn and painted for as long as I can remember. My BFA in painting is from Rhode Island School of Design and I worked in the scenic industry out of New York for 25-plus years. My three children and I moved to Maui about 10 years ago.
"The images of Maui that I create in watercolor, gouache, oil, or siverpoint are atypical: silversword flower heads in winter wind, drawn of tarnishing silver; farmers' market fare in watercolor; bright red doors opening out on the ocean in oil; glowing pink pumpkins; sun-drenched lemons; light filtering through Monstera leaves; the grandeur of the magnificent trees here; delicate Pukiawe berries; rain-swept fields… The lesser-known, light-filled niches of Maui.
"The subject often dictates which medium used to depict it: watercolor, gouache, oil, or the ancient technique of silverpoint. I often combine watercolor and oil or silverpoint and watercolor. My paintings are simultaneously realistic and abstract. I work from life and sketches as often as possible and photo reference when necessary.
"I focus on the beauty of light in my subjects. My goal is to engender lightness, curiosity, and hope with my work – oases of fascination in our confusing world, places for the eyes, mind and heart to rest and refresh – which is why it's so important that a work of art be something you want to live with for a long time."
See something in our galleries not shown here? Please email us at [email protected].