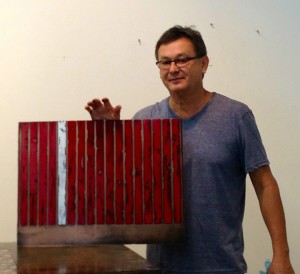 "There are several reoccurring themes in my work. One of the most important to me is color and texture.
"Some years back I worked primarily with representational images. In more recent years I have moved more to contemporary abstract work. That being said, I sometimes drift back and do what I call non-traditional Hawaiiana using semi-abstract images to tell the story of Hawai'i, it's discovery and peoples.
"Blending the traditional European intaglio style of etching and inks with Asian silk and its sense of feel, my hope is that all my images will create peacefulness and serenity in the viewer by giving them a feeling of something old yet new. Being Eurasian myself, East meets West is part of who I am.
"I start with polished copper plates — which for me represent new life and how perfect it is. I then etch my plates in acid for 24 hours, one hour at a time. This simulates the bumps and bruises, highs and lows of life, creating deep relief images etched into the plate. As in life itself, each plate and print tells its own story."
See something in our galleries not shown here? Please email us at [email protected].