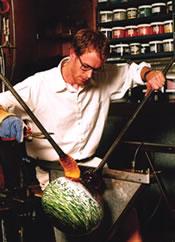 Chris Richards (Hot Island Glass)
Hot Island Glass is owned by leading Hawai'i glassblower Chris Richards. Involved in the studio/gallery since Bill and Sally Worcester founded it in 1992 as Maui's first hot glass facility, Chris is now the owner and principal artist.
Chris has successfully showed his stunning, one-of-a-kind works of art in several notable exhibitions throughout Hawai'i. Most recently, his work was included in Fire to Form, an invitational exhibit of contemporary glass by artists either working in Hawai'i or with ties to Hawai'i mounted jointly by the Contemporary Museum on Oahu and the Hui No'eau on Maui.
See something in our galleries not shown here? Please email us at [email protected].