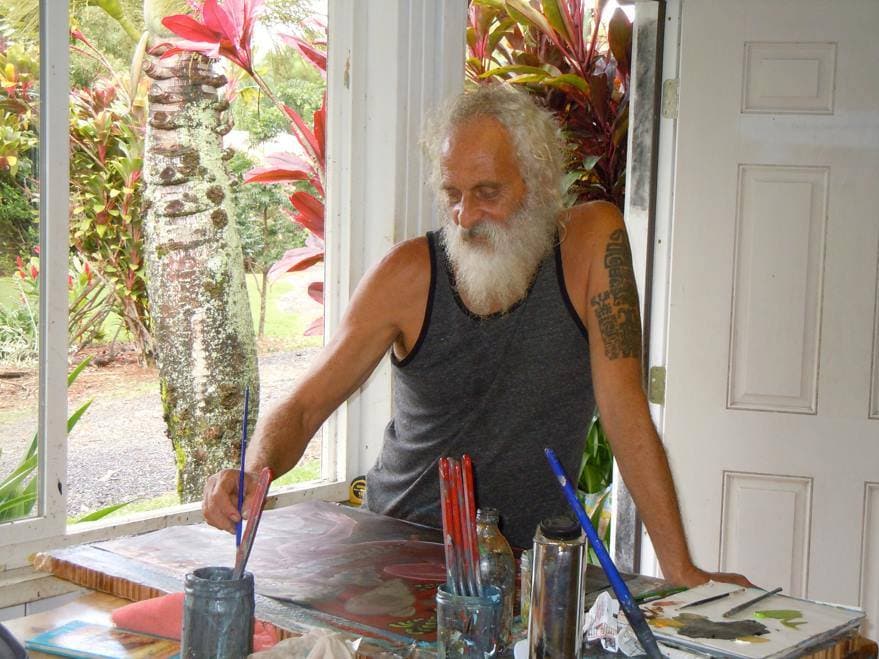 Avi Kiriaty, born in Israel in 1957, grew up in a world of art.  His journey through life has taken him from the Israeli Army, to a Greek Island, to a winter cottage in New Hampshire to Hawaii.  He first moved to Kauai where he experimented with oils and then to the Hamakua side of the  Big Island where he began to live "kama'aina" with the land, farming and fishing.  Avi then moved to the Puna Rainforest and began to live the life of an artist.
Avi has worked in many media:  Oil painting, linoleum block printing, lava and bronze sculpture, pencil and ink drawing, watercolors, ceramic platters and serigraphs.  His works are a feast of lush colors and bold lines, often depicting the Polynesian lifestyle he loves.
The line of work, pictured here, is oils on heavy weight paper. They are all full sheets at  19.75×25.5 with some of the images extending to the edge of the paper and others sized smaller.  They are beautiful either floated in the frame or matted within the frame.