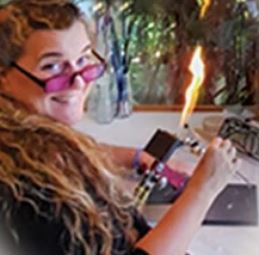 "I was eleven when I fell in love with glass: I went to the county fair and became completely enchanted by the glass artist creating unicorns and fairies out of fire. Sea turtles have been the doorway to my life's work and my life's purpose. When I join them in their ocean world, it is my meditation and where I find my answers. For me, swimming with these ancient angels is where I found my heart's wings — I never would have guessed that my heart's wings were actually flippers."
Amy volunteers helping sea turtles, building fences, cleaning beaches, monitoring basking turtles, and camping out at the hatchling nests, which inspired her to donate a small portion of each sale to the Hawai'i Wildlife Fund — learn more on their website, www.wildhawaii.org.
About The Artwork
Each one-of-a-kind Honu is fire-sculpted and handmade by Amy WakingWolf in her Maui jungle studio. Just like us, no two Honu are alike and each have their own story. Every Honu in the collection is hand-stamped and individually numbered. With six different color stories to choose from, you can find the perfect Honu for you or that special someone.
Pieces are shown in gold vermeil, but can also be made in sterling silver. For custom orders, please email [email protected].