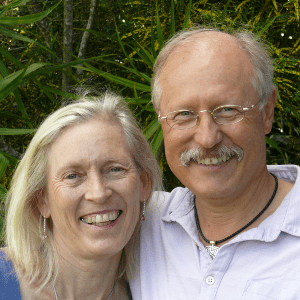 The husband and wife team of Christina Seefeldt and Thomas Fistler make Pratima Design Fine Art Jewelry a creative collaboration and shared life passion. Both German born and raised, the artists trained in the rigorous, diverse tradition of European goldsmithing, in which jewelry is fabricated from "scratch" (with sheet and wire) versus the freeform wax casting predominant in the United States today.
This extensive skill training combined with a background in classical music and guitar making results in a truly innovative design aesthetic. Inspired by the ornamentation on instruments, the artists' first jewelry was, in fact, fashioned from exotic woods and fine silver.
Today, Pratima Design jewelry fuses precious metals and gemstones, reflecting a classic yet contemporary style. Each piece is carefully handcrafted while advanced techniques are incorporated.
Christina and Thomas have called Maui home since 1997, where they work from their Upcountry studio along the slopes of Haleakala. Immersed in Hawai'i's natural environment, Pratima Design jewelry integrates the elements and rhythms of nature while remaining true to the artists' reverence for detail, precision, and simplicity.