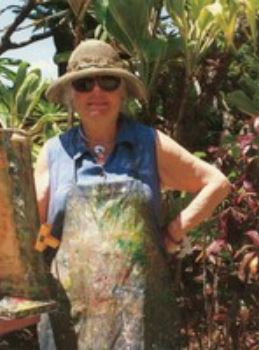 Margaret Bedell ~ Fine Art Prints
Known for her use of saturated color, Margaret Bedell (1924-2016) was both a printmaker and painter in her lifetime. A highly celebrated artist with thousands of prints and original works in private and public collections around the world, she has been featured in countless exhibitions as well as the book "Artists in Hawaii," with Margaret's commissioned pieces appearing everywhere from private resorts to public spaces.
Margaret was born in Toronto and educated in Canada and England. In 1976, she established her own studio in Corona Del Mar, California, where she evolved her unique method of making her viscosity monotypes from plant material. Margaret and her husband Harlan made the move to Maui in the early nineties where she enjoyed plein air painting, and remained married for more than 50 years.