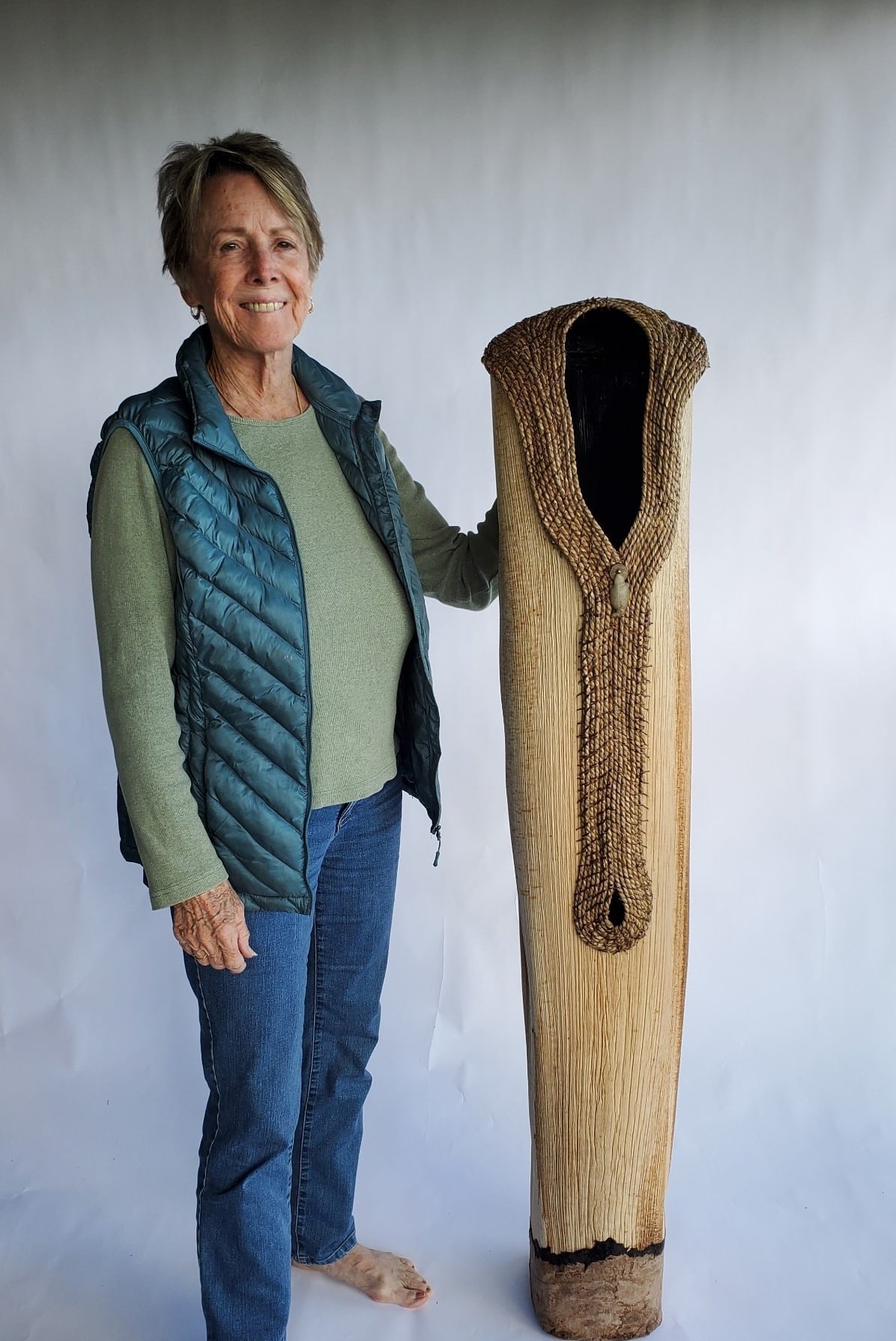 Starting with oil and acrylic painting in her teens and early adult years, Dee explored ceramics while also running an art gallery on the Big Island. Around 2010, she found that basketry sculpture provided an easier and more flexible medium for her artistic expression. After several of her pieces were accepted into art shows (Art Maui, Hui No'eau Visual Arts Center), Dee was inspired to find other outlets and joined Maui Hands. Eighty-to-ninety percent of her creations are made from local plant materials, the most common being palm inflorescence, sheaths from split-leaf philodendron, and driftwood.
All of Dee's creations are one of a kind and cannot be duplicated. A wonderful way to remember your island experience or bring the warmth of the tropics into your everyday life.
ABOUT PALM SHEATH VESSELS: Sheaths are regularly shed from a wide variety of giant palm trees and are collected by the artist from various nurseries around Maui. Only a few of those collected can be easily shaped into vessels, which are then carved, sewn, or glued into striking art objects. They are then embellished with inflorescence — also from palm trees — sheaths from split leaf philodendron plants, or other natural leaves or vines. All are weighted with a wooden base or plastic container with cement insert. After being treating for insects, they are sealed with either a polyurethane finish or with an encaustic wax finish (an ancient preservation process using beeswax and Damar tree resin that fuses into the plant fibers when heated).
The sizes of the vessels vary from quite tall (45", which stand independently) to small (25", which can be easily displayed on a table, shelf, or floor). Most are stand-alone art objects, while others can be utilitarian and hold things like dried branches or fresh flowers using a glass inset.