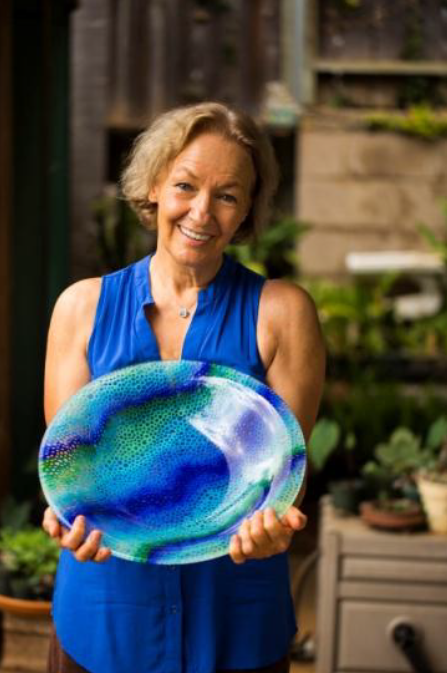 Christiane (Karuna) Santoro
Born and raised in Germany and living on Maui since 1987, Christiane Santoro's (aka Karuna) love affair with glass began over 30 years ago. Starting with regular stained glass and then glass mosaic, she was introduced to glass fusing in 2003 and has been hooked ever since.
Fascinated by the almost-opposing properties of glass — its fragility and strength, translucency and depth — Christiane loves to create pieces that add beauty and harmony to everyday life.
See something in our galleries not shown here? Please email [email protected].
Publications:
"Contemporary Fused Glass" by Brad Walker, 2010 edition
"Wailea Magazine," Fall/Winter 2014-2015
Education & Training:
2011, Bullseye Glass (OR): Vitrigraph Workshop
2008, Pilchuck Glass School (WA): Workshop with Catherine Newell
2007, Workshop with Bob Leatherbarrow (Calgary, BC)
2006, Pilchuck Glass School (WA): Workshop with Steve Klein
2005, Arrowmont School of Arts & Crafts (TN): Workshop with Brock Craig