~Thank You For Being A Friend~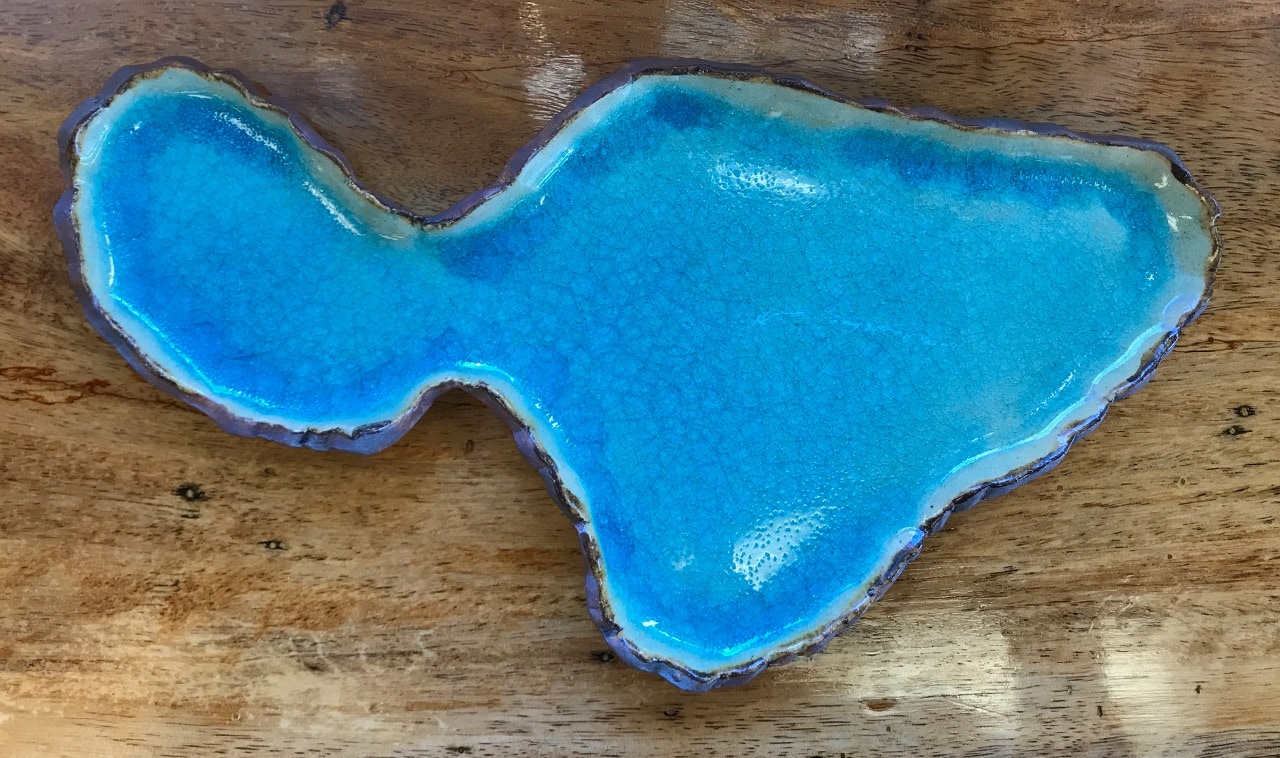 Maui Plate by Sharon Ransford – Coming Online Soon!
This month has flown by! After almost eight months of being closed, since opening in late October it has been very heartwarming to see artists, employees, and some of our clients again. Your support over this long period of uncertainty has been invaluable.
We are extremely grateful to be able to welcome visitors and locals alike to all gallery locations again. Read on for updates about our website, artists, and more!
Starting Oct. 15, visitors may test out of Hawaii's 14-day quarantine: "…Transpacific and interisland travelers seeking exemption from Hawaii's 14-day mandatory travel quarantine must take a State-approved test within 72 hours prior to their final leg of travel to Maui County…" For detailed travel, testing information, and more, please visit the County of Maui website.
#ShopSmall this holiday season and year-round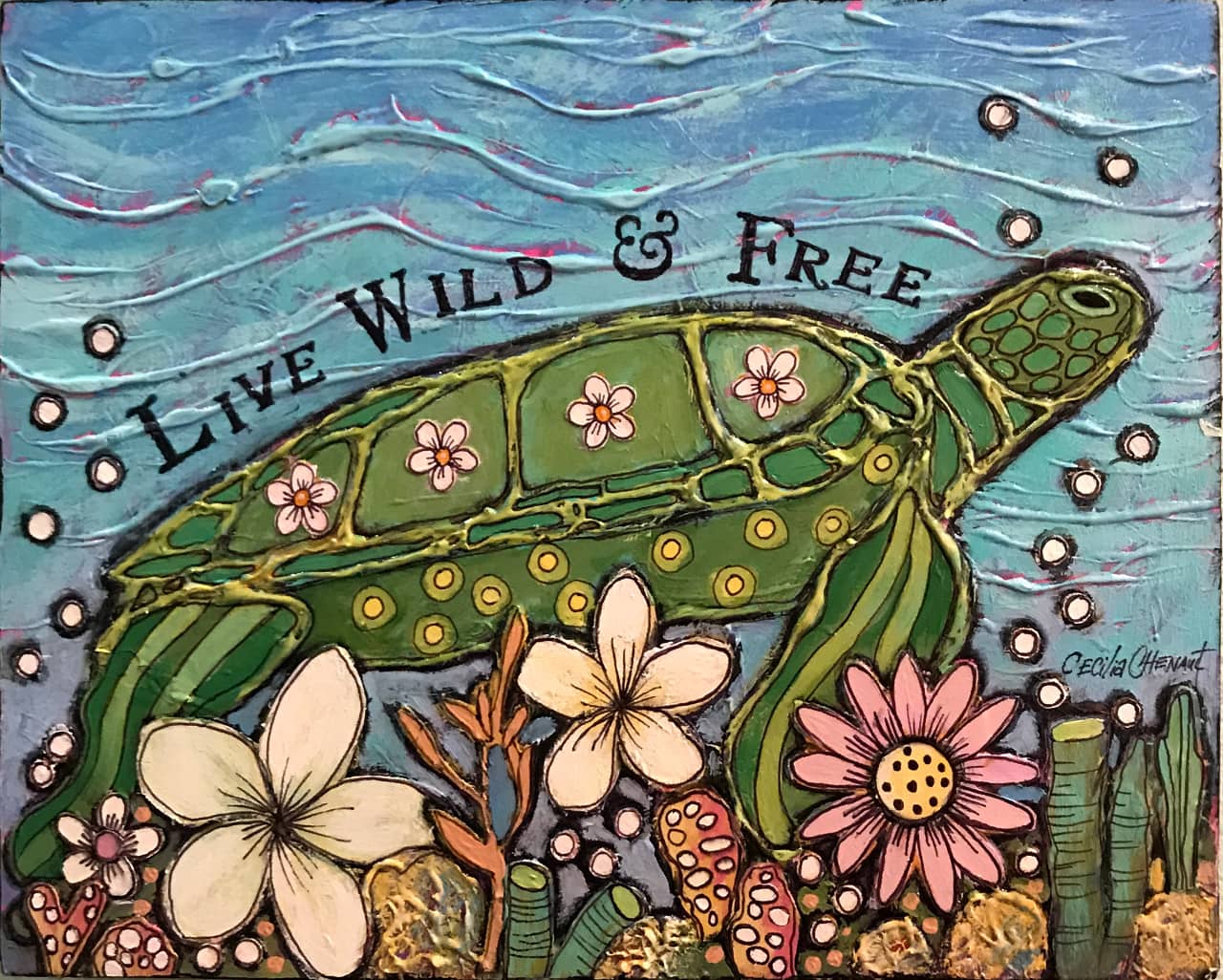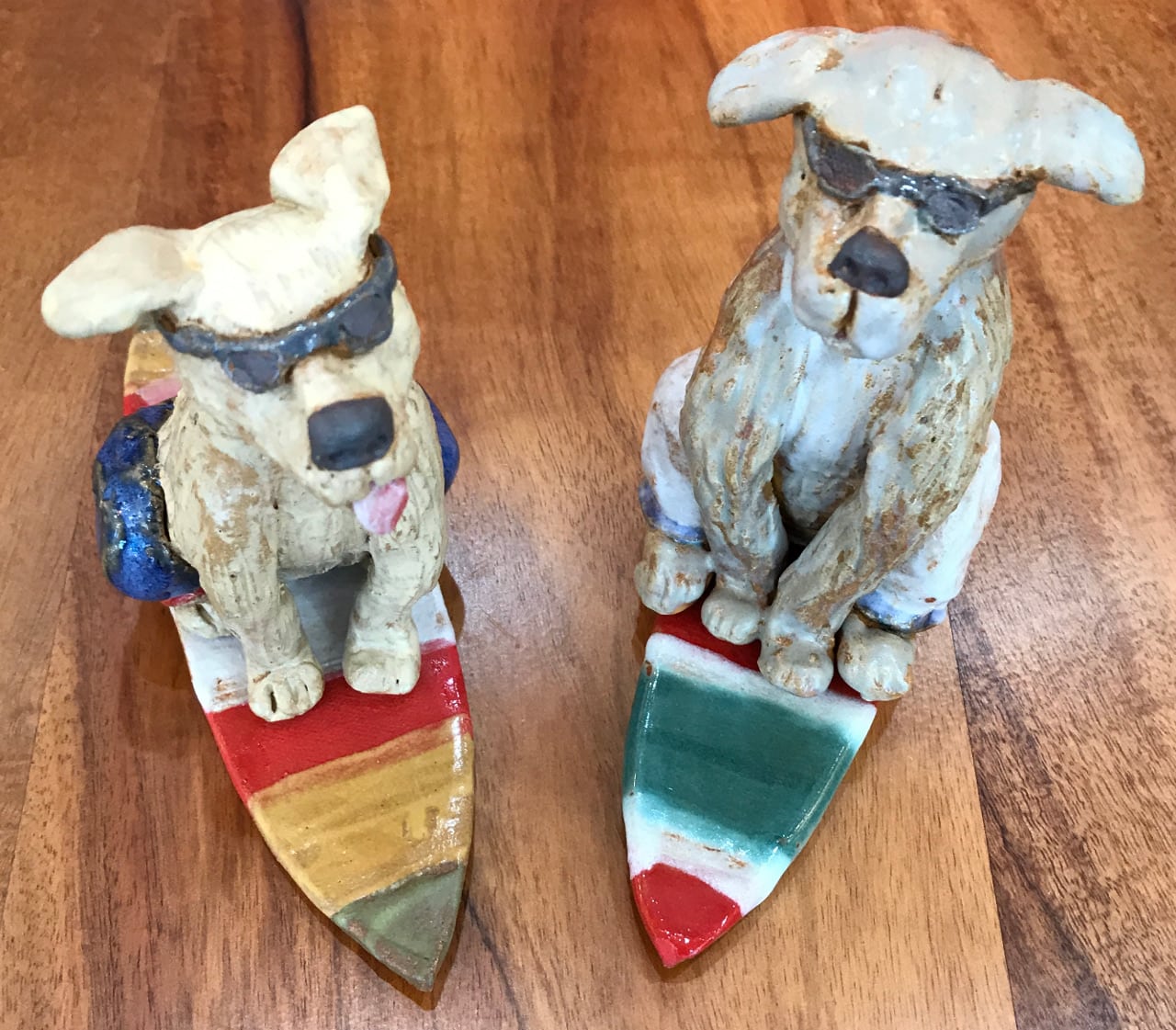 "Live Wild & Free" by Cecilia Chenault and Surf Dogs by Robin Fahey Cameron
This year more than ever, it's important to think about how we can support local shops, restaurants, and other retailers in our communities – whether that community is just up the street or halfway across the world, in our case!
Shopping small on Small Business Saturday, Nov. 28, is a wonderful way to boost local businesses whether you're making purchases online or in-person. Another way to help is to regularly shop local for birthdays, anniversaries, and other occasions – one-of-a-kind gifts are always special, no matter the time of year.
NEW WORKS ONLINE! Original paintings by Cecilia Chenault, Christine Waara, Jack Hamilton, John Ensign, and Steve Rinaldi; prints by Betty Hay Freeland; ceramics by Robin Fahey Cameron; sculpture by John Ilnicki; souvenir resin ocean bowls by Leilani Kepler (Resin 808); and more – check out www.mauihands.com/art-for-sale to see if anything new catches your eye.
Live virtual shopping at your favorite gallery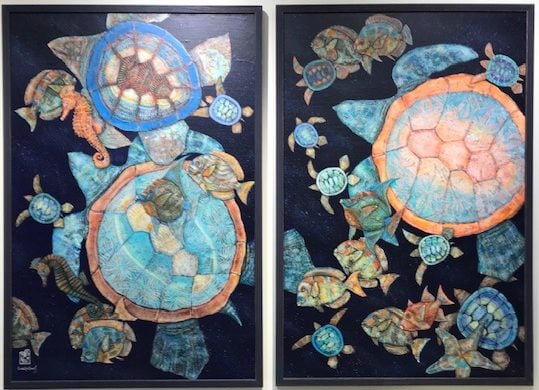 "Indigo Sea" Mixed Media Diptych by Carrie Lee Brady (Hawaiian Fish Printers)
Don't have time to look through our website or just want to see what's new in the galleries? Make a live virtual shopping appointment with us!
We would love to work with you in real time to help find the perfect gift for a loved one or new work for your wall. Please email [email protected] with your name, phone number, availability, and any other additional details to help us make the most of your virtual appointment.
Gift picks for everyone on your list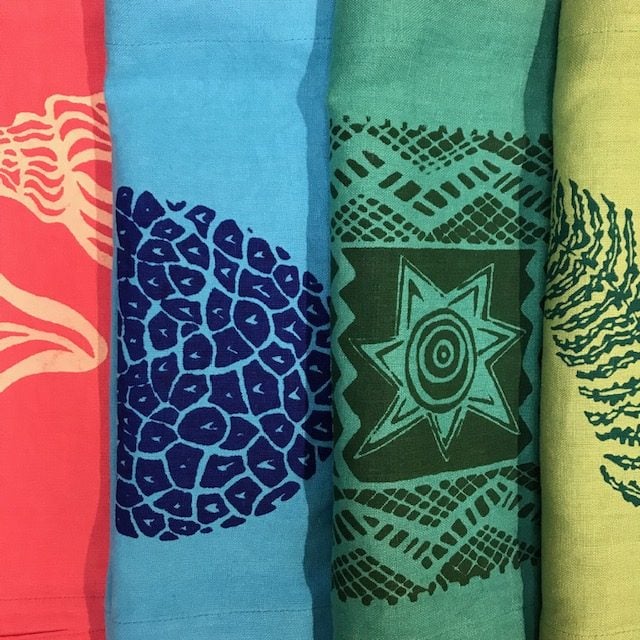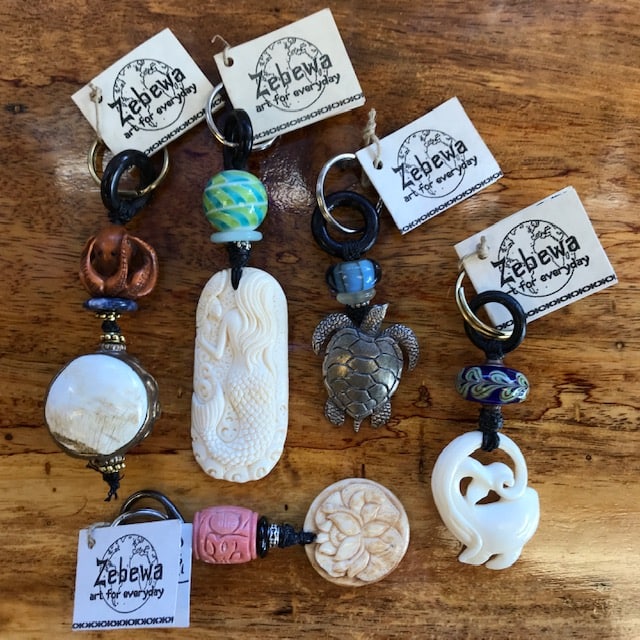 Table Runners by Maui Monkey Business and Keychains by Zebewa
Stumped for ideas on what to get the mother-in-law, college newbie, or aunties in your life? Maui Hands to the rescue!
Unique table linens, potholders, and bags by Maui Monkey Business and one-of-a-kind Zebewa keychains in themes from A to Z are just the tip of our inventory iceberg. Take a look at our koa Kitchen and Bar items for the chef in the family; ceramic dishes and mugs by Curt Stevens and David Crockett for both the bird that just left the nest as well as new homeowners; and gorgeous dichroic glass lava trays by Marian Fieldson for the one who's hard to buy for – they are simply irresistible!
Need more ideas? Email us at [email protected]!
Artwork staging with your favorite gallery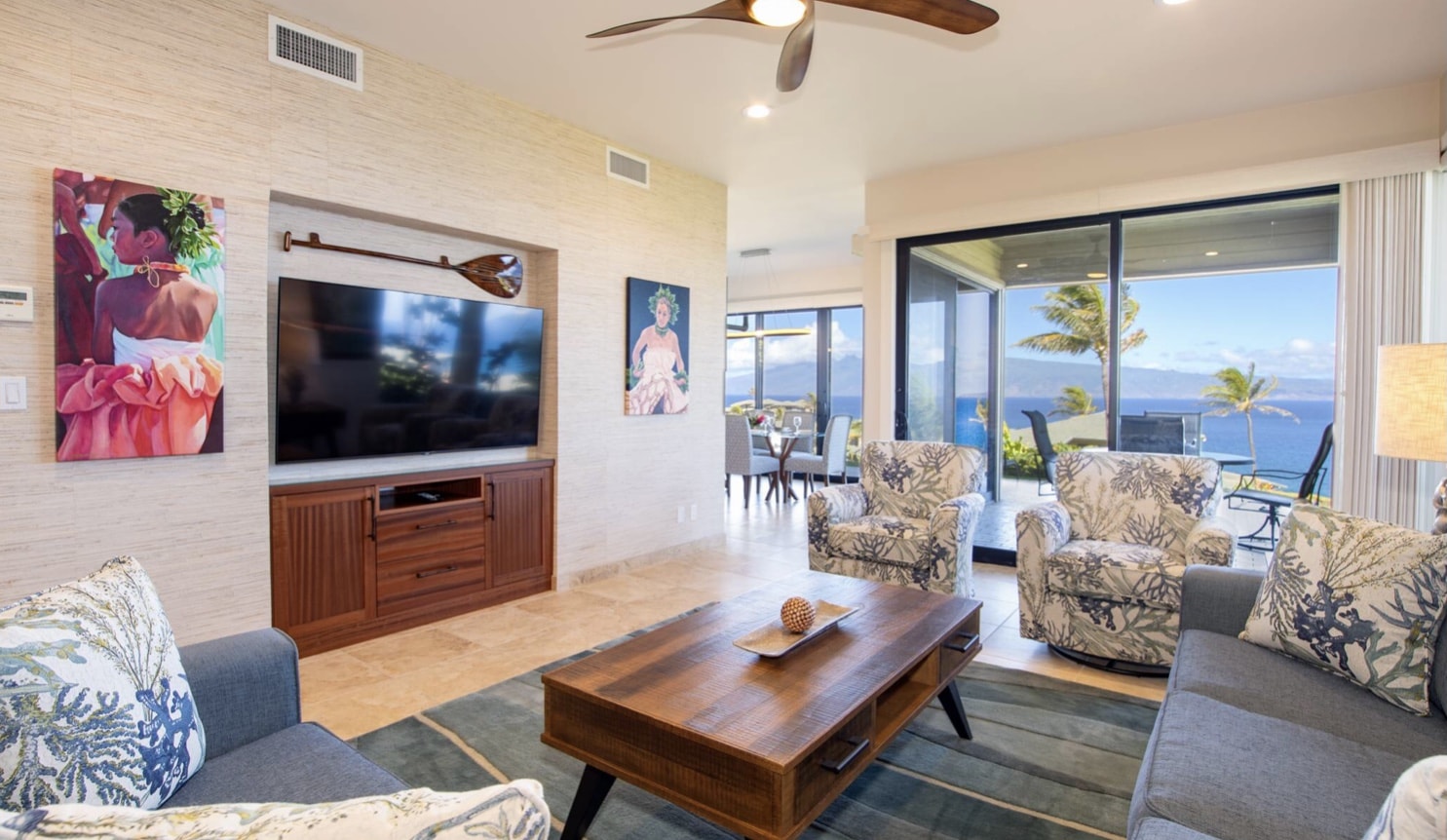 Kapalua Bay Villa Living Room featuring Prints by Suzy Papanikolas and Paddle by Mel Ross (photo courtesy of property owner)
With 28 years of gallery ownership under her belt, Maui Hands Owner Panna Cappelli can provide almost any artwork you need to make your place look and feel great. From original paintings and large-scale prints to sculpture and handcrafted furniture, Panna will work closely with you to make your residence or rental look its best. Bonus: No need to be on-island! Between phone, email, and text, she's got you covered from initial conversation to ultimate selection.
Email Panna directly at [email protected] to get started today.
A hui hou!
Panna Cappelli, Owner, Maui Hands