Newsletter: February 2020 on Maui!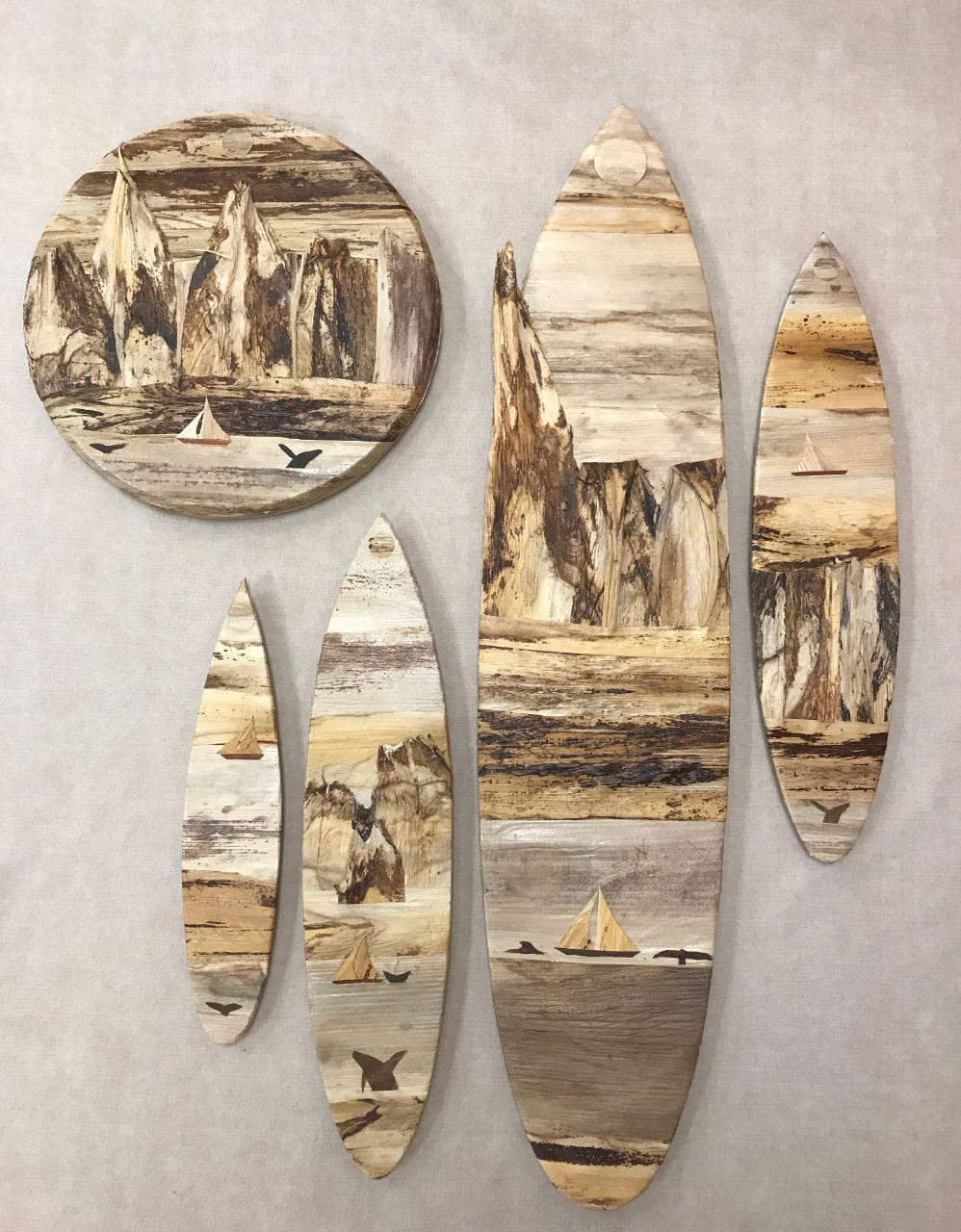 A collection of original mixed media pieces by Baz Maui
The Art of Baz Maui
Baz Maui is a self-taught artist with over 20 years of experience. Originally from Saint Vincent and the Grenadines he was influenced by his father, a skilled carpenter and guitar maker, and the vibrant colors and form of Caribbean art.
In 1989 Baz was crowned Southern Caribbean Windsurfing Champion. He then moved to California in 1999 to pursue a career in windsurfing and from there moved to Hawaii, where he taught windsurfing at Anaehoomalu Bay in Waikoloa on the Big Island.
Since his move to Maui, his art has evolved into using natural material from local Hawaiian plants to create rich mixed media scenes.  Whether a piece is mountain, ocean or volcanic themed, his goal is to capture a true essence of the natural beauty of the Hawaiian Islands.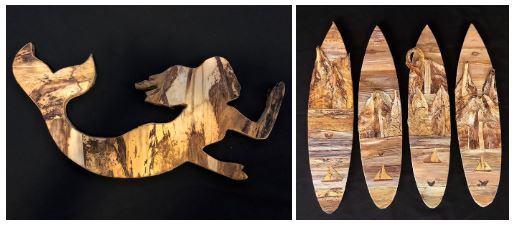 This year, two of Baz's original pieces were chosen for the annual Black Creativity Juried Art Exhibition at the Museum of Science+Industry in Chicago.
This is the longest-running exhibition of African-American art – featuring paintings, drawings, fine art prints, sculpture, mixed media, ceramics and photography by African Americans since 1970.
Please visit the exhibit if you are in the Chicago area, from now through March 1st
Congratulations Baz!
New Artists to Maui Hands
Original Paintings on wooden surfboards by Tom Smith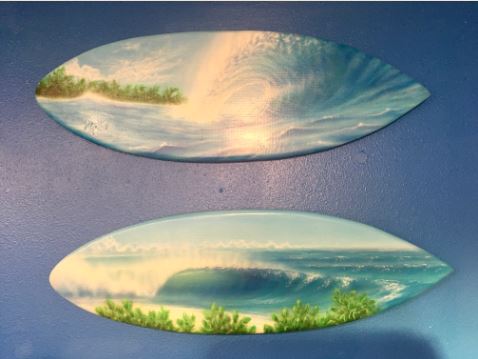 Artist Statement:
"The islands of Hawaii, especially Maui are the source of inspiration for my art. When I am out surfing, diving or fishing I can't help but be influenced by the beauty of this magical place. I use a combination of acrylic paints, hand brushing and air brushing to create a scene of the beautiful colors of the islands. I use all types of mediums like canvas, wood and even surfboards for my images. I also do commissions and murals as well.
I'm originally from San Diego and now call South Maui my home. Painting is my passion and brings so much fulfillment to me which I so enjoy sharing with the people around me." – Tom Smith
Available at Maui Hands in Lahaina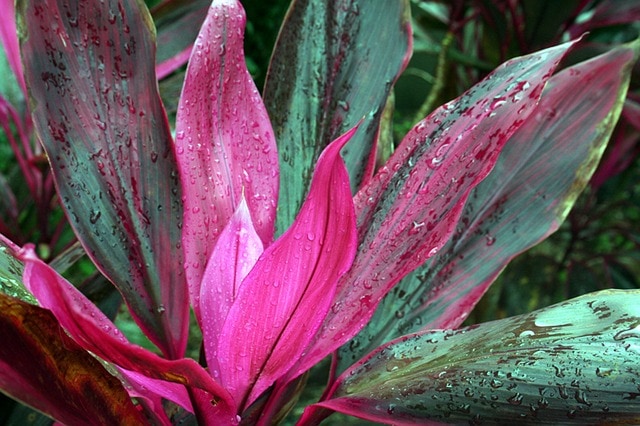 Workshop: How to Prevent Fires With Native Plants
Kealia Pond National Wildlife will be hosting a workshop on February 15th on photographing birds and preventing fires with native plants. In 2019, brush fires burnes through nearly 14,000 acres in Central Maui. This upcoming workshop will demonstrate the practice of using plant species with fire-resistant characteristics to create areas of non-flammable vegetation.
February 15th, 9a – 2p
Kealia Pond National Wildlife
https://bit.ly/2Gw7eHW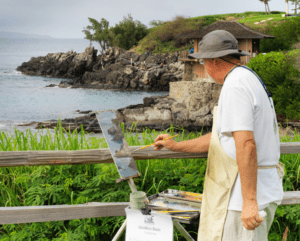 Maui Plein Air Painting Invitational
The Maui Plein Air Painting Invitational is an annual, week long event meant to foster an appreciation for outdoor painting for Maui visitors and residents with supporting art activities within our community. 24 professional plein air painters from throughout Hawaii, the mainland and Australia will be highlighted this year.
February 15-23
Maui, Hawaii
https://bit.ly/38IENm3
Mahi Pono Donates Nearly 30,000 Pounds of Potatoes of Hawai'i Foodbank  
Mahi Pono, who is working to transform 41,000 acres of vacant former sugar cane land into agriculture, donated nearly 30,000 pounds of potatoes from it's test crop that was planted in August. The potatoes were taken to the Hawai'i Foodservice Alliance for distribution on O'ahu and Kaua'i.
In addition to potatoes, Maui Pono has planted approximately 120 acres of citrus trees (lines, lemons, and mandarin oranges) and 20 acres of non-GMO solo papayas.
Volunteers Clear 300 Pounds of Trash Along Keawakapu Beach
On Saturaday, January 11th, the Maui Wedding Association together with many volunteers cleaned up party of the South Maui coastline. 300 pounds of debris was removed from the beach, including cigarette butts, beer cans and bottles, broken slippers, plastic bottles, and fireworks. 
The cleanup was organized in partnership with local nonprofit Malama Maui Nui, which aims to engage the community in litter prevention, recycling, and beautification efforts across the county.  
ARTISTS IN RESIDENCE FOR FEBRUARY 2020
We are very lucky to represent the work of so many talented local artists. For many years, we have facilitated our Artist in Residence program that offers clients the opportunity to meet some of our artists,  learn more about their artistic process and talk story. We hope you will join us one day and meet one of our incredible artists.
HYATT
Ariel Quiroz, oil painter. Sundays in February from 4p – 8p
Beth Hird, watercolorist. Thursday, February 6th from 1p – 4p
LAHAINA
John Ensign, acrylic painter. Thursdays the 13th & 20th from 11a – 3p
Sandra Greenberg, photographer. Fridays in February from 4p – 6p
MAKAWAO
Mort Luby, watercolorist & oil painter. Monday in February from 2p – 4p
Christine Halton, mixed media artist. Wednesdays the 5th, 12th & 19th from 11a – 2p
Steve Rinaldi, oil painter. Thursdays in February from 11a – 2p
PAIA
Mort Luby, watercolorist & oil painter. Wednesdays in February from 2p – 4p
John Ensign, acrylic painter. Thursdays the 6th & 27th from 11a – 3p
Marty Wolff, photographer, Fridays the 7th & 21st from 11a – 3p