Newsletter: November on Maui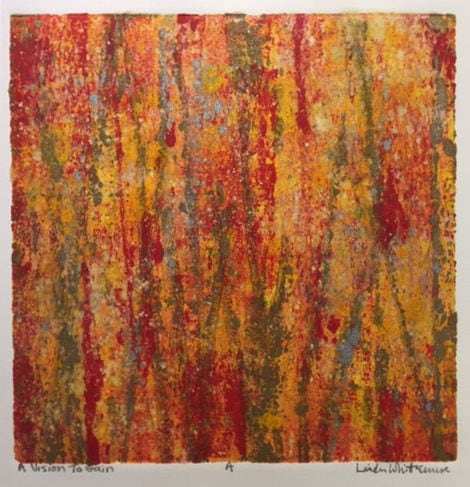 "A Vision to Gain – A" by Linda Whittemore
Monotype
Monotype in printmaking is a technique that yields only one original impression from each prepared plate. They are prized and valuable for their textural qualities and uniqueness.
The process of creating a monotype begins with ink being placed onto a piece of glass, or another smooth surfaced plate. That ink drawing is then pressed onto a sheet of absorbent paper.
Since each is unique and hand executed, monotypes cannot be considered a technique of multiple replications.
Linda Whittemore's style of printmaking is specifically called viscosity monotype.
She creates her originals by first painting onto a block piece of Plexiglas – using a brayer, brushes and rollers. The painted plate is then transferred to her press bed where a dampened sheet of paper is placed over the plate. The plate is run through the press at high pressure, creating the resulting print on the sheet of paper. To create the next piece, the plate must be painted again, making each piece original and unique.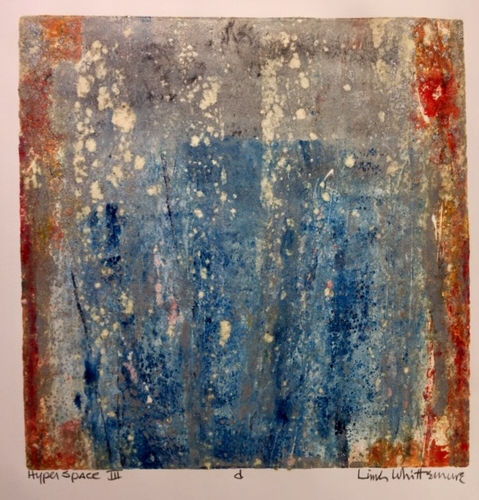 "Hyperspace III – D" by Linda Whittemore
Hand Woven Baskets
by Fiama Von Schuetze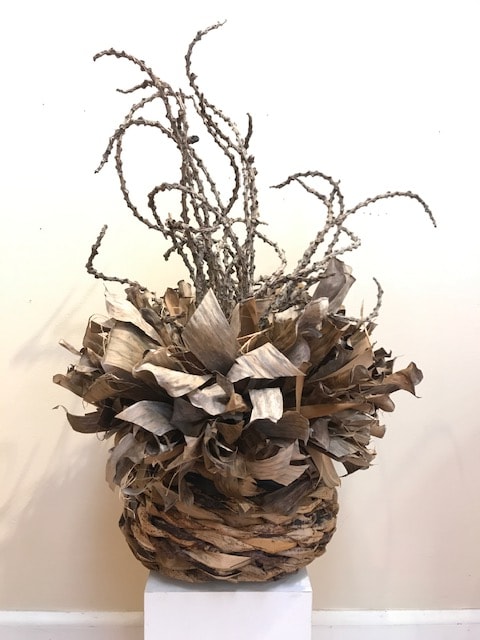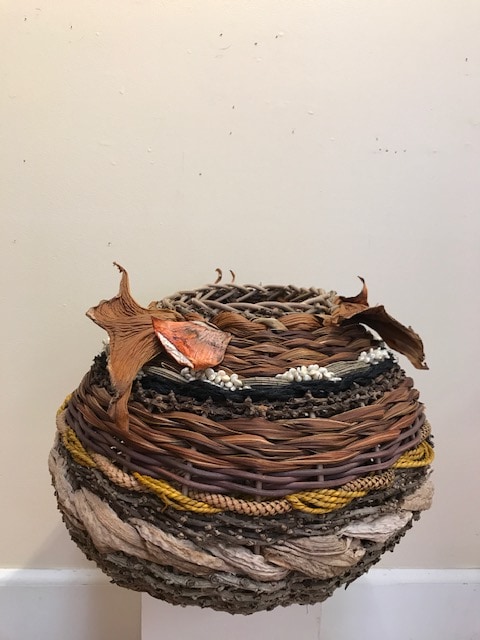 Artist Statement:
"My love of nature adds to the joy of collecting the many fibers I use. I have found a lifestyle where my work and play are one. Weaving has become a form of meditation – a way to quiet my mind. I enjoy working with natural materials, knowing the earth will receive them as gently as they were put forth. I hope the 'Aloha' expressed in my artwork is felt and shared by all those who carry them, from my heart to theirs."
Available at Maui Hands in Makawao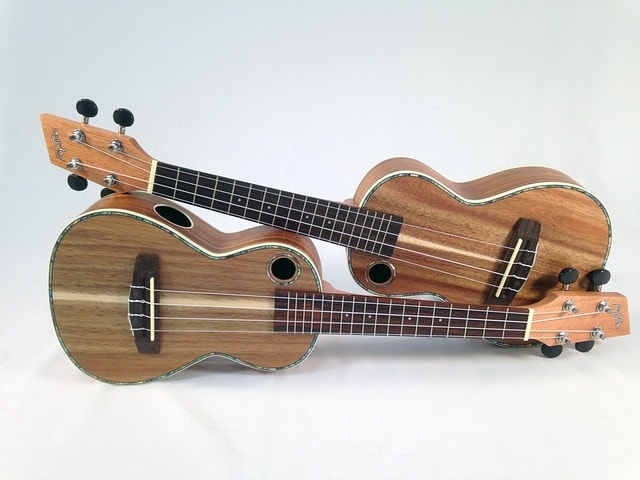 Artist 2 Artist: Henry Kapona & Alx Kawakami
In this concert series, Henry Kapono & Alx Kawakami talk-story, play music, share stories from their careers and answer questions – This offers the audience a rare opportunity to get up-close and personal with these two musicians.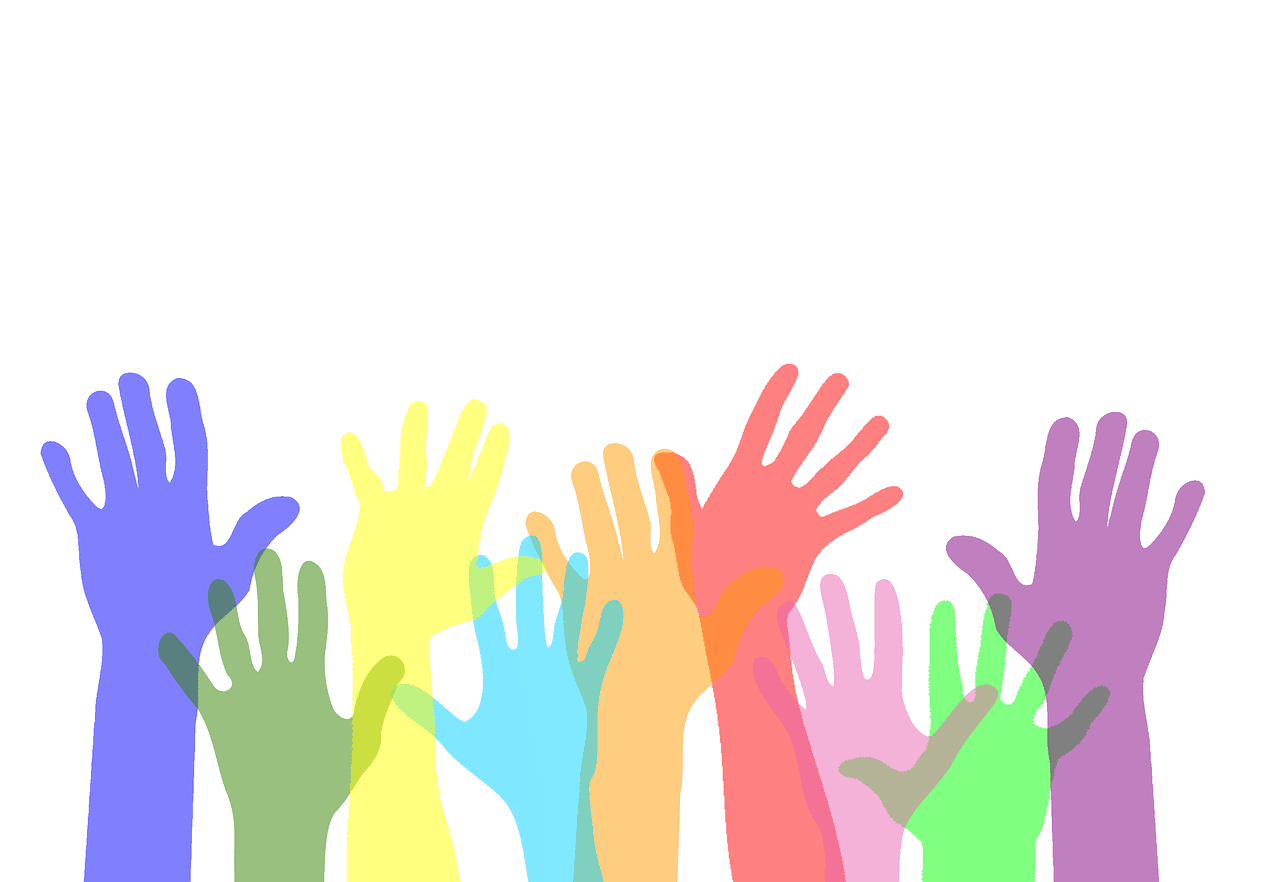 Volunteer at Haleakala with Pacific Whale Foundation
Volunteers are given free transportation to the summit of Haleakala and admission to the park. You'll work alongside a certified Naturalist and park staff to remove invasive plant species or help with other projects to preserve the park's native ecosystem.
November 16th, 2019
Haleakala National Park
https://bit.ly/2BMFNqK
Pono (Righteous)
Maui Tree Giveaway Among Many Planned Statewide  
On Saturday, November 2nd, about one thousand trees will be given away at the Maui Nui Botanical Gardens in honor of Hawai'i's 51st annual Arbor Day.
This is part of the Department of Land and Natural Resources' Community Forestry Program which aims to get more trees in our communities. "Hawai'i has been supporting tree giveaways for decades, but the need has drastically increased in recent years. Trees may be among our most accessible and affordable defense against climate change" – press release from DLNR.
Auwe (Oops)
Scientists Take 'Important Step' to Saving Endangered Kiwikiu
In an effort to lower the risk of extinction for the Kiwikiu (Maui Parrotbill birds) seven have been relocated to a new home. The hope is that this new environment will provide more productive breeding conditions. Five males and two females were transferred to Nakula on Haleakala which is newly restored and a predominantly Koa Tree ecosystem.
Kiwikiu once inhabited all of the forests on Haleakala, and were even found on Molokai'i. Due to habitat destruction, the species has sense become limited to a tiny area on the windward side of Maui.
ARTISTS IN RESIDENCE FOR NOVEMBER 2019
We are very lucky to represent the work of so many talented local artists.  For many years, we have facilitated our Artist in Residence program that offers clients the opportunity to meet some of our artists,  learn more about their artistic process and talk story. We hope you will join us one day and meet one of our incredible artists.
HYATT
Ariel Quiroz, oil painter. Sundays in November from 4p – 8p
Christine Halton, mixed media artist. Thursday, November 7th from 3p – 6p
LAHAINA
Cecilia Chenault, mixed media artist. Tuesdays the 12th, 19th, & 26th from 11a – 2p
Christine Halton, mixed media artist. Thursday, November 7th from 11a – 2p
MAKAWAO
John Ensign, acrylic painter. Thursdays the 7th and 14th from 11a – 3p
Christine Halton, mixed media artist. Thursday, November 21st from 11a – 3p
Stacy Vosberg, acrylic painter. Saturday, November 23rd from 11a – 3p
PAIA
Christine Halton, mixed media artist. Tuesday, November 12th from 11a – 2p
Amy Tessier, mixed media artist. Wednesday, November 27th from 11a – 3p
Steve Rinaldi, oil painter, Thursdays the 7th, 14th, & 21st from 11a – 2p
Stacy Vosberg, acrylic painter. Saturday, November 9th from 11a – 3p