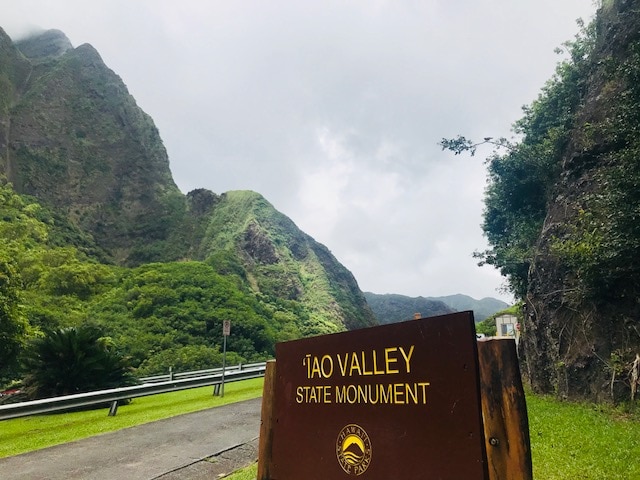 ʻ Īao Valley
One of Maui's most visited destinations is rich in history stemming back to the 1700's. ʻĪao Valley was the location of what is said to be the most bitter battle ever fought on Hawaii's soil.
In the late 1780s, Kamehameha I began waging battles across Hawaiʻi to unite all eight islands under his rule. In 1790 he, along with a large fleet of canoes, landed along Kahului Bay where he was met by Maui's forces ruled by chief Kahekili. As warriors reached ʻĪao, their shouts echoed throughout the valley while women and children on the mountain sides witnessed the battle.
So many were slain from both armies that their bodies clogged the stream. Thus, the battle was named "Kepaniwai." (damming of the waters)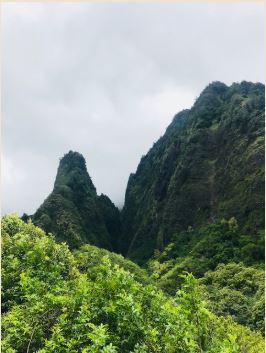 Kūkaʻemoku – ʻĪao Needle
This 2,250 foot high peak in ʻĪao Valley was used as a lookout by warriors in time of warfare. It was here that some of the Maui warriors retreated from the forces of Kamehameha I during the battle of Kepaniwai.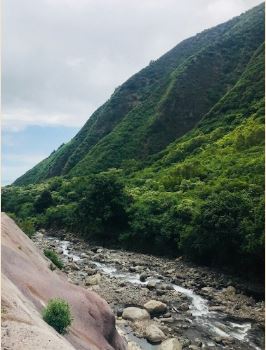 Nā Wai ʻEhā – The Four Waters of Maui
The streams of the valleys of Waikapū, Wailuku, Waiehu, and Waiheʻe are known as the four waters. The fertile lands and abundant waters made this area the largest irrigated agricultural system in Hawaiʻi.
New Artists to Maui Hands
our two newest artists are actually returning artists!
We are happy to welcome them back!
Ceramics
by David Crockett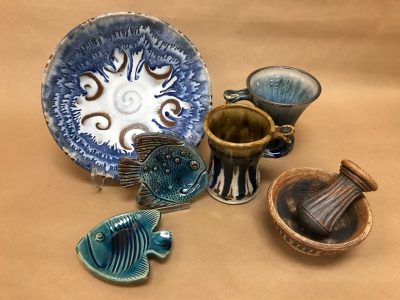 Mugs, large serving bowls, fish (both sitting and hanging), mortar & pestle, and bud vases. Davidʻs creations can be found at all 4 Maui Hands locations!
Hawaiian Knives
by Mark (Kaipo) Runyon
We currently have a collection of Markʻs skinner, hunter, and pocket knives. At Maui Hands in Makawao & Paia.
Special of the Month
10% off Gathering Bags
by Linda Van Alstine
Linda's gathering bags come in two lengths and hundreds of combinations of colors and designs.
They are each silkscreen printed and hand sewn here on Maui!
Linda's line also includes tea towels, hot pads, pillow cases, clutches, and table runners. Featured at all 4 Maui Hands Locations.
Front Street Firework Show
If you will be on Maui this 4th of July, Front Street in Lahaina is the place to be! Every year the town's block party is one of the biggest on the island. Right around 8pm, fireworks are launched from a barge just offshore. (Fireworks reflecting off the ocean is a sight you dont want to miss) Some restaurants on Front St. have oceanfront dining! Other viewing options include a boat cruise or you can bring your lawn chair down to the beach!
Wednesday July 4th, 2018
Front St. Lahaina
63rd Annual Makawao Rodeo
An all weekend event kicking off on Friday the 6th at the Oskie Rice Arena with the Qualifying Runs and Bull Bash.
Saturday the 7th starts off with Makawao's annual Fourth of July Parade. Local vendors line the street including a chili cook off that Maui Hands will be participating in!
Rodeo weekend continues at the arena on Sunday the 8th.
Oskie Rice Arena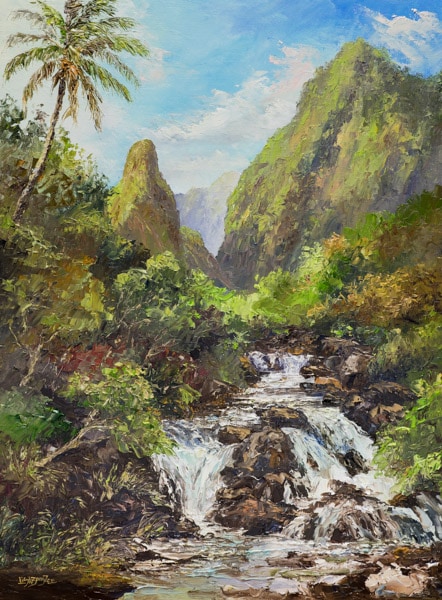 Just about a year an a half ago, one of the largest floods in Maui Countyʻs history took place in ʻĪao Valley. On September 13, 2016, the flooding of Wailuku River threatened the lives of residents with almost no warning. The surge of water picked up truck sized boulders, uprooted giant trees, and collapsed part of the State Monument. Residents across Maui worked to restore ʻĪao which didn't reopen until earlier this year.
100 years prior, in 1916, a massive surge of water down the same river took the lives of 13 residents and destroyed 34 homes. For this reason, many refer to the storms at ʻĪao as the "100-year flood." Data collected from the US Geological Survey estimate it as possibly a 500-year recurrence.
ʻĪao Valley – Original Oil Painting by Lisabongzee
Pono (Righteous)
Maui Smoke Free Cars
A new Maui County law goes into affect on July 1st making it illegal to smoke or vape in vehicles with children under the age of 18 present.
Supporters of the new law express that there are over 7,000 chemicals in secondhand smoke, and at least 69 of them are known to cause cancer. The organization Tobacco-Free Hawaiʻi shared that secondhand smoke in cars is 10 times more concentrated than the level considered unhealthy by the EPA, even with the windows rolled down.
https://bit.ly/2MItPCI
Auwe (Oops)
The Cost of Paradise
It should come as no surprise that itʻs expensive to live in Hawaiʻi.
In fact, here in the 50th state we have the highest "housing wage" in the country.
"Housing wage" figures are an estimate of the hourly wage a full-time worker must earn to afford rent costs without exceeding  30% of their income.
Renters in Hawaiʻi need to make $36.13 per hour to "pay fair market rent." In other terms, Maui renters specifically, need to work 123 hours a week to be able to afford a 2-bedroom apartment. 
https://bit.ly/2MIhuP5
ARTISTS IN RESIDENCE FOR JULY 2018
We are very lucky to represent the work of so many talented local artists.  For many years, we have facilitated our Artist in Residence program that offers clients the opportunity to meet some of our artists,  learn more about their artistic process and talk story. We hope you will join us one day and meet one of our incredible artists.
HYATT
Ariel Quiroz, portrait artist. Thursdays in July from 4p – 8p
LAHAINA
Amanda Scott, mixed media artist. Fridays in July from 10a – 2p
MAKAWAO
Stacy Vosberg, oil painter. Saturday the 7th from 11a – 3p
And for Makawao's 3rd Friday Town Party (20th) 4p – 8p
Richard DiGiacomo, etched waves on aluminum. Saturdays the 14, 21, 28th
from 1:30p – 4:30p
PAIA
Carol Bodin, mixed metal jeweler. Mondays the 9th & 23rd  from 10:30a – 2:30p
Steve Rinaldi, oil painter. Mondays the 16th & 30th  from 11a – 2p
Stacy Vosberg, oil painter. Sunday the 29th from 11a – 3p