Pele
It is not often that Hawaii news makes national headlines, but we are certain that most of you have heard of the volcanic activity on Hawaii Island last month.
The first week of May was an eventful one for residents of Puna (specifically Leilani Estates) on the east side of the Big Island.
What started with 6 fissures has now reached 24. The resulting lava from these fissures has spread over two thousand acres.
Some volcanic flows from separate fissures have joined together causing fast moving lava. Of the 24 current fissures, 19 are still active.
Although an end to the lava flow is not currently in sight, residents of Hawaii believe that they are visitors in Pele's home, and she is in charge.
---
Madam Pele, the goddess of fire, lightning, wind, dance and volcanoes is the force behind the erupting Kilauea volcano.
Pele was born in Tahiti but later made her way to Hawaii where she is credited with the formation of some of our most well known destinations.
On Oahu she dug fire pits, including the famous Diamond Head. Here on Maui, Pele created the Haleakala Volcano.
After traveling down the Hawaiian chain, Pele made Halemaumau Crater at the summit of Kilauea her home.
To date, this current eruption has engulfed 40 structures, of which at least 2 dozen were homes.
Although losing your home is one of worst things many of us can imagine – Pele is spoken of with respect and awe- "as Pele destroys, she also creates"
We encourage you to dig deeper into the legend of Pele.
top image: "Kilauea" by Brad Lewis (photo of a past eruption)
bottom left: "Pele's Cloak" weaving by Ipo Kudlich
bottom right: "In the Temperature [Pele]" monotype by Linda Whittemore
New Artists to Maui Hands
Fine Jewelry
by Shannon Ordaz
Shannon's jewelry components include – sterling silver, argentium dust, 24k gold dust, and fresh water pearls. Her pieces can be found at our Paia gallery.
Nature Inspired – Cotton Tea Towels
by Mary Law
100% Cotton // Colorsafe // Non Toxic Paint
At Maui Hands in Ka'anapali – Hyatt Regency
Lyrical Landscapes
by Bindi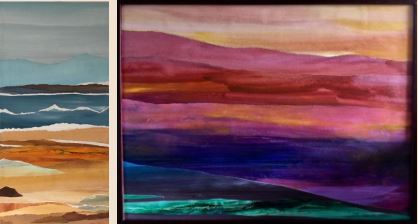 Collage Paintings
At Maui Hands in Paia
King Kamehameha Day
King Kamehameha Day celebrates the chief, known as Kamehameha The Great who is known as a fierce warrior responsible for unifying the Hawaiian Island under a single rule.
The largest celebration takes place on Oahu annually where the 15 foot tall statue of King Kamehameha is draped in flower lei over 30 feet long. On the outer islands, festivities – known as ho'olaule'a– are held. One of Maui's celebrations takes place on June 17-18 in Lahaina town.
Banyan Tree Park (Lahaina Town)
27th Annual Kī Hō`alu Guitar Festival
Slack key is a guitar technique dating back to the 19th century paniolo (cowboy) who played around the campfire after a long day of work on the ranch. It has since become known as one of the world's great acoustic guitar methods! This month, visit the MACC for a free, family friendly event featuring over 15 performers from Hawai'i. New music, classic favorites, and great time is what you can expect.
Bring your lawn chair or lauhala mat to relax on the MACCʻs grassy lawn.
Saturday, June 24th from 1pm – 7pm
http://mauiarts.org/event-detail.php?id=367
Iwi Nani Jewelry Pop up on Kauai
One of our artists, Brianne Light has been working hard to prepare for a pop-up shop at the Coconut Marketplace on the island of Kauai.
She will have a big collection of her most recent jewelry, and will be creating new and custom pieces in her shop as well.
If you are on Kauai, or plan to be from now until August, keep her in mind!
Open everyday from 10a – 6p
http://www.coconutmarketplace.com/
Pono (Righteous)
Hawaiian Airlines Educates Tourists about the Dangers of Using Sunscreen Products
Throughout the month of April, Hawaiian Airlines flight attendants joined the campaign to educate flyers about the harmful chemicals found in most sunscreen products. One of the most beautiful parts of Hawaiʻi is our ocean. Unfortunately – oxybenzone (found in most sunscreens) has been found to be highly toxic to coral and other marine life.
It is our hope that buying environmentally healthy sunscreen will become the new norm as we all work together to keep Hawaiʻiʻs beaches and oceans full of life and beauty.
http://www.latimes.com/travel/hawaii/la-tr-hawaii-hawaiian-airlines-gives-out-free-safe-sunscreen-20180410-story.html
Hawaiian Airlines also handed out samples of Raw Elements – a marine-safe sunscreen.
Auwe (Oops)
"The Last Straw"
This Earth Day (April 22nd, 2018) The Pacific Whale Foundation addressed the environmental issue of single-use plastic straws.
Because of their small size and low weight, plastic straws rarely make it to recycling centers or the landfill. In fact, they are the most common source of litter in the world.
In a staggering prediction- scientists say that by the year 2050, the oceans will contain more plastic than fish!
We have learned that every piece of plastic ever created still exists today, even recyclable plastics never truly biodegrade.
Lets all do our part, paper straws!
ARTISTS IN RESIDENCE FOR JUNE 2018
We are very lucky to represent the work of so many talented local artists.  For many years, we have facilitated our Artist in Residence program that offers clients the opportunity to meet some of our artists,  learn more about their artistic process and talk story. We hope you will join us one day and meet one of our incredible artists.
HYATT
Ariel Quiroz, portrait artist. Mondays in June from 10a – 2p
Christine Halton, mixed media artist. Thursdays the 14th & 28th from 3p – 7p
LAHAINA
Luana Kama, water colorist. Wednesdays in June from 4:30p – 7:30p
Christine Halton, mixed media artist. Thursdays the 14th & 28th from 11a – 2p
Diane Appler, oil painter. Fridays in June from 11a – 3p
MAKAWAO
Amanda Scott, mixed media artist. Fridays the 1st, 8th, 22nd & 29th from 2p – 5p
And for Makawao's 3rd Friday Town Party (15th) 4p – 8p
Andra Pro, printmaker. Makawaoʻs 3rd Friday Town Party 4p – 8p
PAIA
Christine Halton, mixed media artist. Thursday the 7th & 21st  from 11a – 2p