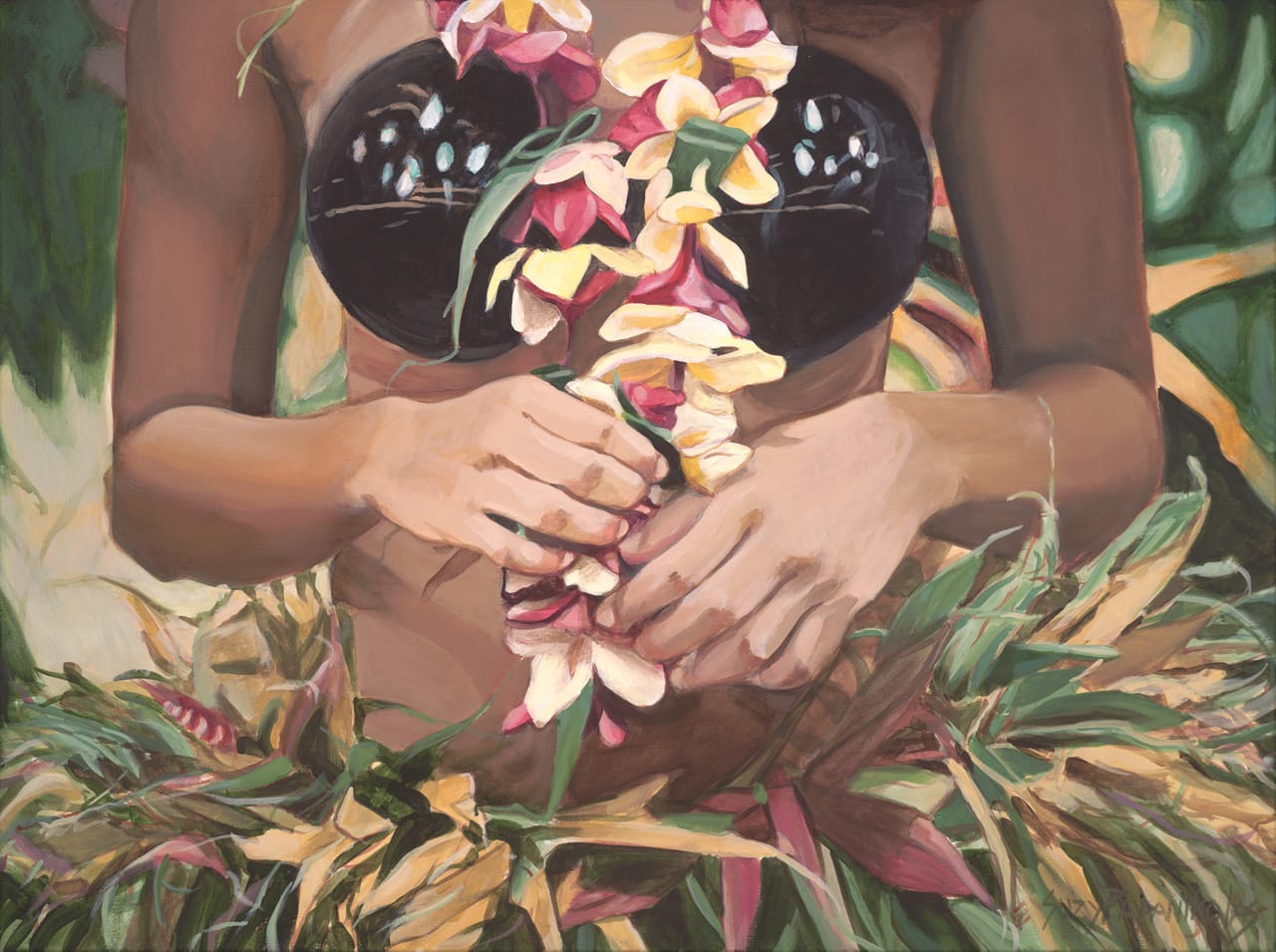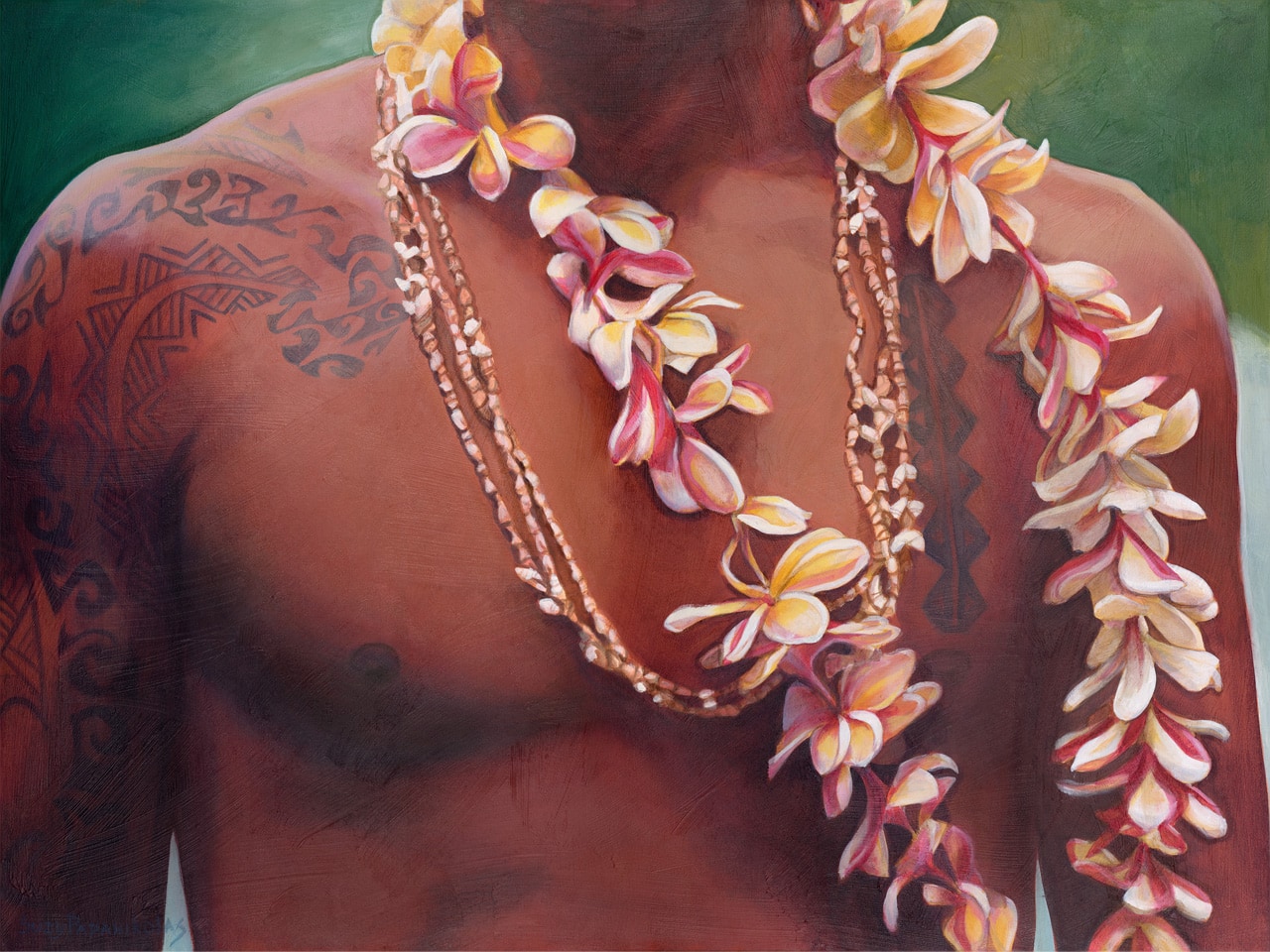 "May Day (May 1st) is Lei Day in Hawaii"
Lei Day has been celebrated in Hawaii for over 85 years.
The first official Lei Day was on May 1st in 1929, and celebrated in Courts and Town Halls across Hawaii.
The biggest gathering each year is now held at Kapi'olani park on Oahu, but smaller festivals are held all across Hawaii.
Elementary schools often invite families of students to attend May Day and watch hula performances put on by the children.
Lei's are very important in the Hawaiian culture – they represent the unspoken expression of Aloha. As many of you know, the word "aloha" holds many meanings. Depending on the context it can stand for love, hope, farewell, greetings, or joy.
One of the ideas behind Lei Day is that although the lei itself will only last a while, the thought and meaning of Aloha will last forever. This symbolic meaning is spread throughout the state. Each island in Hawaii has a special representative flower. Maui's is the beautiful pink Lokelani.
Happy Lei Day, from Maui Hands!
canvas giclee prints by Suzy Papanikolas
New Artists to Maui Hands
Aloha Angels
by Mina Ikavuka and Mele Sinisia Finau
These one-of-a-kind little Aloha angels are made with Tapa cloth. Tapa cloth is the inner bark of a paper-mulberry tree, soaked in water and then pounded on top of a wooden anvil, with a wooded mallet until it is paper-thin like cloth. These Aloha Angels are handcrafted on Maui with much Aloha by Mina Ikavuka and Mele Sinisia Finau.
"We pray that this little angle will give you much Aloha as we enjoyed creating it."
these can be found at our Lahaina, Makawao, & Paia locations – as well as on our website https://www.mauihands.com/product/aloha-angel/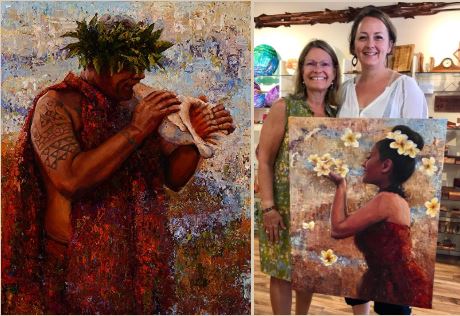 Last month, we had the honor of working closely with a customer, and one of our artists on a custom paining.
Earlier this year, customers Rhenae & Steve purchased an original oil painting by Jeanne Young Ho'oala'a Hale (left)
Not long after, Rhenae decided she would like a similar painting of a female.
The very talented Jeanne Young was able to create the perfect companion piece (seen to the right with Rheane & Jeanne)
Thank you for the opportunity Rhenae & Steve, and thank you for supporting local!
Seabury Hall's Annual Craft Fair
Each year the Seabury craft fair brings thousands of locals and visitors to beautiful Upcountry Maui to enjoy the arts and crafts of some of the islands best artisans. It is located on the Seabury Hall campus. All proceeds benefit the school's Financial Aid Program, to ensure that every child from the Maui community has the opportunity to attend Seabury Hall. It's a wonderful tradition.
Saturday, May 12th from 9pm – 4pm
https://www.seaburyhall.org/page/parents/craft-fair
Josh Tatofi Concert
Grammy nominated vocalist Josh Tatofi of Oahu will be preforming on Maui this month. His album, Pua Kiele, was named Island Music Album of the Year at the 2017 Nā Hōkū Hanohano awards where Josh won the Male Vocalist of the Year award.
Maui Arts and Cultural Center
100 Things to Do in Hawaii
We came across this fun article which highlights the must-sees & must-dos across the Hawaiian Islands!
It features sights, beaches, educational activities, hikes and more!
Pono (Righteous)
Maui Halau Wins Overall at the 2018 Merrie Monarch Festival
Last month Maui won big at the very prestigious hula competition – Merrie Monarch. The hula halau Na Lei Kaumaka O Uka, under the direction of Kumu Napua Greig took home the big win as the 2018 champion.
The event started off great for the halau as their soloist – Shalia Kamakaokalani won the title of Miss Aloha Hula.
Napua Greig's dancers continued to dominate the competition by winning 1st in the Wahine (female) Auana division, and 2nd for their Kahiko performance.
Another Maui halau – Ka Leo O Laka I Ka Hikina O Ka La took home 1st place in both men's divisions.
Maui No Ka 'Oi!
Auwe (Oops)
Historic Rainfall Inundates the Island of Kaua'i
In mid-April, Kaua'i experienced flash flooding and mudslides that devastated parts of the island. Within a 24-hour period, a record 27.52 inches of rain was recorded.
Although Kaua'i is no stranger to rain, that amount was too much for the island to handle. Before and after pictures show entire towns covered with water. Houses, cars, and roads were flooded and some completely damaged.
Kaua'i is still recovering from what many residents call "the worst storm [they've] ever seen."
In this newsletter, we have also shared information on way's you can help the Kaua'i community.
Malama Kaua'i

As seen in our Pono & Auwe section, Kaua'i is recovering from a storm that caused flooding to many parts of the island.
Hawaii has come together to send food, supplies, & monetary gifts.
Go Fund Me – this link takes you directly to over 10 campaigns created by Kaua'i residents & organizations.
ARTISTS IN RESIDENCE FOR MAY 2018
We are very lucky to represent the work of so many talented local artists.  For many years, we have facilitated our Artist in Residence program that offers clients the opportunity to meet some of our artists,  learn more about their artistic process and talk story. We hope you will join us one day and meet one of our incredible artists.
HYATT
Ariel Quiroz, portrait artist. Thursdays in May from 4p – 8p
LAHAINA
Luana Kama, water colorist. Wednesdays in May from 4:30p – 7:30p
Diane Appler, oil painter. Fridays in May from 11a – 4p
MAKAWAO
Christine Halton, mixed media artist. Tuesdays the 10th & 31st 11a – 3p
Steve Rinaldi, oil painter
Makawao's 3rd Friday Town Party (18th) 4p – 8p
PAIA
Stacey Vosberg, oil painter. Tuesday May 8th from 11a – 2:30p
Amanda Scott, mixed media artist. Wednesday May 16th from 3p – 6p
Christine Halton, mixed media artist. Thursday May 24th from 11a – 3p