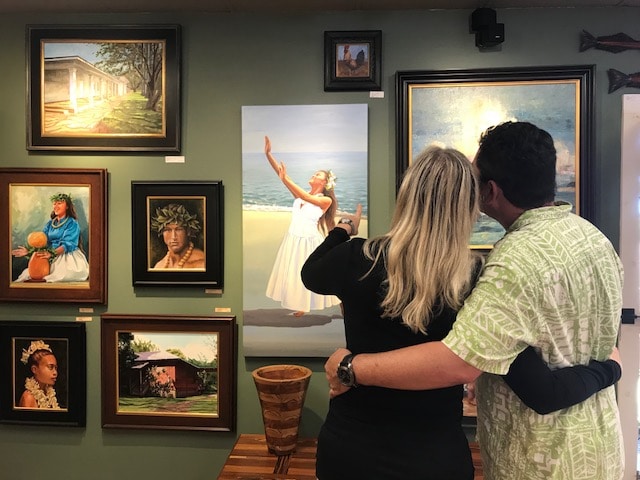 February, the month to celebrate Love!
Is has always fascinated us is to see how quickly couples agree on a piece of art.
Do you and your other half have a difficult time? Or does that part come easy?
We have found that most couples are drawn to the same type of art.
Whether it be as broad as a medium you both find intriguing, or as specific as you both picking out the same (photograph) on a wall full of options.
That then makes us wonder- is your similar tastes one of the reasons you and your loved one were attracted to one another? Or maybe you are attracted to the same things because of the time you have spent together.
New Artists to Maui Hands
Three of our newest artists bring beautiful creations out of local woods
Hawaiian Canoe sculptures by
Dan Craig
Dan Craig and his family moved to Hawaii 28 years ago and they love it here!  A cabinetry expert of 25 years, Dan spends his free time creating art pieces out of local woods, mostly Koa.  His newest creation is this double hull canoe made with Koa wood and his hand-made traditional sails.
Wooden Sunglasses
by Alapake
We have a great selection of finely crafted sunglasses made of various local materials. Both male and female designs available. Each pair has high quality polarized lenses. Woods include Koa, Mango, and Eucalyptus and other ecofriendly materials such as hemp.
Multi wood Cutting Boards
Jonathan Starr
Jonathan Starr handcrafts original designs from exotic hardwoods at his workshop & home in Kaupo, Southeast Maui. Jonathan & his wife Helen have been off-grid pioneers in this most pristine & remote section of Maui's coast, in wilderness forest facing across Alenuihaha Channel toward the Big Island of Hawaii. They've lived and hand-built their home & farm using solar power, wind and other self-sufficient infrastructure and food sources for several decades.
The Art of
Linda Whittemore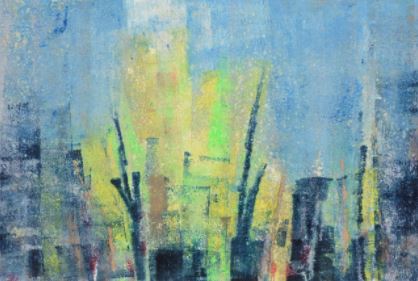 Linda works in a printmaking style called viscosity monotype, although she is trained in the traditional form of Intaglio printmaking.  Her background training as a painter is apparent in her style, with the abstracted landscapes coming to mind. She creates her monotypes in her Kihei studio on a printmaking press.  Each piece is original; it is created first by painting onto a blank piece of plexiglass, using a brayer, brushes and rollers.  This painted plate is then transferred to the press bed, and a dampened sheet of paper is then placed over the plate.  The plate is then run through a press at high pressure, creating the resultant print onto the sheet of paper. To create the next piece, the plate must be re painted again making each piece original and unique. 
Linda's originals can be found in our Paia gallery

The Schaefer Portrait Challenge!
Every three years, the Maui Arts and Cultural Center presents the Schaefer Portrain Challenge, where local artists submit an original portrait of a person of Hawaii. This could be your neighbor, teacher, family member, etc.
This year, four of our Maui Hands artists were chosen to be apart of the show! It is filled with talent and diversity. We encourage you to take a look if you are on the island.
Maui Arts and Cultural Center
January 16th – March 18
If you are as inspired by all the creations in the portrait challenge, you may be interested in Techniques in Portraiture also put on by the Maui Arts and Cultural Center. For grades 9-12, free admission- where students will be taught different creative approaches by professional artists in the Schaefer Portrait Challenge.
February 15th and 22nd
from 4p – 6p
Pono (Righteous)
Maui Video Producer gets Grammy for 'HUMBLE.'
Jason Baum, a graduate from Maui High School won a Grammy for a music video he helped produce for the very popular song – "HUMBLE" by Kendrick Lamar.
This was Jason's first Grammy and second trip to the award show.
Another Maui local, Josh Tatofi, was also nominated for a Grammy for 'Best Regional Roots Music Album.'
Although Josh did not win his category, it is great to see so much talent from Maui being recognized in music.
We hope to see a lot more from these two talented Maui artists!
Auwe (Oops)
Use of Hawaiian (Language) in court leads to Warrant
A Maui judge issued a bench warrant for a Haleakala telescope protester who spoke only in Hawaiian while in court.
The judge said that although the dependent responded in Hawaiian when called upon, the court was "unable to get a definitive determination for the record" that he was present.
Thus, he was issued a warrant for not being present in court.
The state has since said that those who want to speak Hawaiian in court will be able to use an interpreter.
ARTISTS IN RESIDENCE FOR FEBRUARY 2018
We are very lucky to represent the work of so many talented local artists.  For many years, we have facilitated our Artist in Residence program that offers clients the opportunity to meet some of our artists,  learn more about their artistic process and talk story. We hope you will join us one day and meet one of our incredible artists.
HYATT
Ariel Quiroz, portrait artist. Thursdays the 1st, 8th, and 15th from 4p – 8p
LAHAINA
Sandra Greenberg, photographer. Mondays from 10a – 6p
& Tuesdays from 10a -4p
Luana Kama, water colorist. Tuesdays in February from 4:30p -7:30p
MAKAWAO
Joyce Durbin, mixed media (gourds & masks). Thursdays the 8th and 22nd from 11a – 2p
Steve Rinaldi, oil painter. Wednesdays the 7th, 21st, and 28th
in February from 11a – 2p
and for the 3rd Friday Town Party, the 16th from 5p – 8p
PAIA
Mort Luby, oil painer & watercolorist. Call for information (808) 579-9245